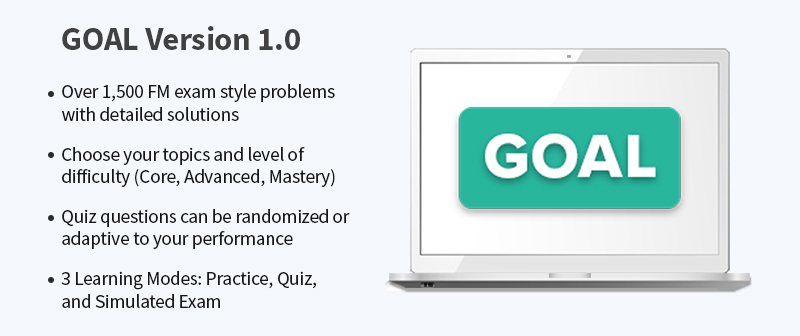 GOAL: A Flexible, Customizable, Online Actuarial Exam Prep Tool
GOAL is an e-learning test prep tool for students to practice what they've learned in class or from independent study with textbooks and study manuals. The online platform offers database of 1,500 SOA Exam FM exam-style problems with detailed solutions, 3 Learning Modes (Practice, Quiz, Simulated Exams), and 3 Levels of Difficulty (Core, Advanced and Mastery). You control your learning mode, difficulty level and topics.
GOAL Version 1.0 for Exam FM
Currently GOAL (Guided Online Actuarial Learning) Version 1.0 is available for Exam FM and is included free with an ASM Exam FM Study Manual as part of the StudyPlus+ bonus tools, or students can sign up for a free 2-week trial of GOAL for FM through the Actuarial Bookstore or ACTEX | Mad River Books .
How to Access GOAL
Access GOAL for FM via actuariallearning.com. If you have an FM Manual with StudyPlus+, GOAL is linkedin within your FM StudyPlus+ tools.
Still have questions? Please contact us for support.